Dev Update #28
posted on
Hi everyone!
I hope you're all enjoying the start of summer. I just wanted to check in again and let you all know that progress on Stardew is continuing, as always!
Here's a few screenshots: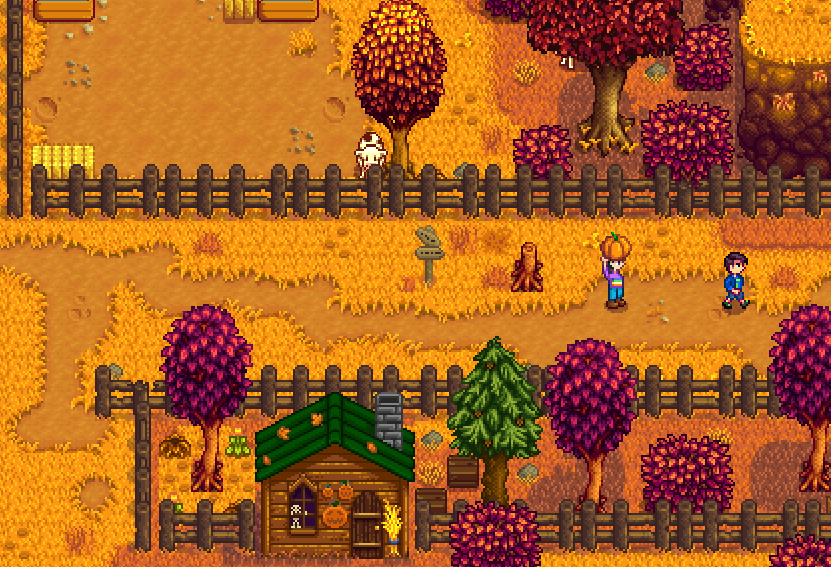 "Here, have a fresh pumpkin from my farm"
Fishing in the summer. 
Animals enjoying the sunshine.
There's been so many little things I've done since the last update, I can't even remember them all. But here's a few :
Fences/Gates working 100%
New building construction process/animations.
Animals finished.
Added more "artisan goods" (e.g. mayonnaise)
New "farm event" & other rare surprises
A new foraging opportunity.
Shipping bin with a snazzy lid.
Lots of cosmetic improvements.
Added hops, grapes, and amaranth.
A few new crafting recipes. (You'll learn to craft something new just about every time you level up in a skill area)
Polishing & testing everything.
Next up… pacing, progression, guidance. All the things that give a game structure and purpose. There's a lot of content in Stardew Valley,  and I need to make sure players encounter it in an intuitive and compelling way.
Stay cool!
-Ape