Dev Update #19
posted on
Hi everyone!
So, as I said in the last update, I'm working on the main story-line for Stardew Valley.  My aim is to create an overarching narrative/goal that will give players a stronger sense of purpose in the game world.
The main story-line in Stardew Valley centers around an old, overgrown community center: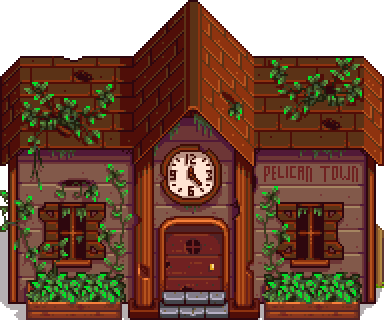 Some say it's an eyesore… others say it's haunted.
This building was once the heart and soul of Pelican Town… a place for citizens to gather, socialize, and collaborate. But that was long ago, In a bygone age when the valley was more isolated from the outside world. Now, the community center is in shambles, a forgotten relic of the past…
Maybe this newcomer can restore these old ruins to their former glory?
The community center is divided into six areas… the Pantry, the Art Studio, the Fish Tank, the Vault, the Bulletin Board, and the Boiler Room. To repair each area, you'll need to complete a number of "bundles":
Each bundle consists of a selection of items and corresponds to a unique aspect of the game. They are designed not to be "grindy", but rather to encourage players to explore the various facets of Stardew Valley.

When you've completed all the bundles for an area, that area will be restored and a permanent, positive change will happen in the valley (a new area might become available, for example).
If I do decide to include Joja Corporation in Stardew Valley, here's how it will work: If you don't fully restore the community center within 2 years, Joja Co. demolishes it and builds a mega market in its place.
I am still fiddling with this, and ultimately I will base any final decisions on whatever is the most fun. Even though I'm referring to it as the "main story-line", there's still tons of goals and things to do that don't involve the community center.
On a side note, I also expanded the forest area by a lot… added a lake and some other features:
Thanks for reading!
-ConcernedApe