Dev Update #16
posted on
Today, I'd like to showcase some of the music in Stardew Valley.
All the music in Stardew is made using a piece of software called Propellerhead Reason.  To make a song, I first create/tweak all the instruments I am going to use: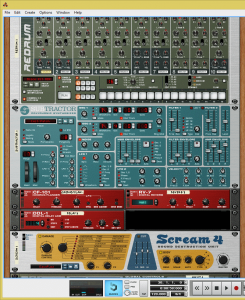 Then comes the composition… laying down each note in a "sequencer" (With plenty of copy & paste):
For Stardew, It's important to me that each song enhances the atmosphere of the current scene. I tried my best to capture the "essence" of each season… hopeful spring, energetic summer, melancholy fall, and lonely winter. I use a lot of banjo, strings, harp, mallets, and flute to evoke the natural wonders of the valley.
Each season has multiple songs that play randomly. Seasonal songs don't loop over and over again whenever you are outside… instead, ambient seasonal soundscapes fill the void between songs.
Fall. A somber time of mystery and beauty. The sun, low in the sky, paints golden light onto the tumbling leaves :
Winter. Lonely, cold, and majestic. Great frozen monuments loom in the distance:
Spring. A time of hope and fresh beginnings. The sweet smell of honey and nectar wafts overs the green hills:
Summer.  A happy time of year when plants and animals alike are bustling in a frenzied dance of life-energy:
Beyond the seasonal tunes, there's plenty of music having to do with character events and festivals:
And of course… some strange music to be heard deep underground:
I am now working on festivals. I am able to use a lot of the same code/scripting as the event cutscenes, which is great.
Happy easter, everyone:
Thanks for reading/listening!
-ConcernedApe